Experience affordability and power in one Smartphone – designed for all ages and abilities at just $149!
Buy direct from our website and get a BONUS Opel Mobile Prepaid SIM card with the first 30 days of the plan FREE on activation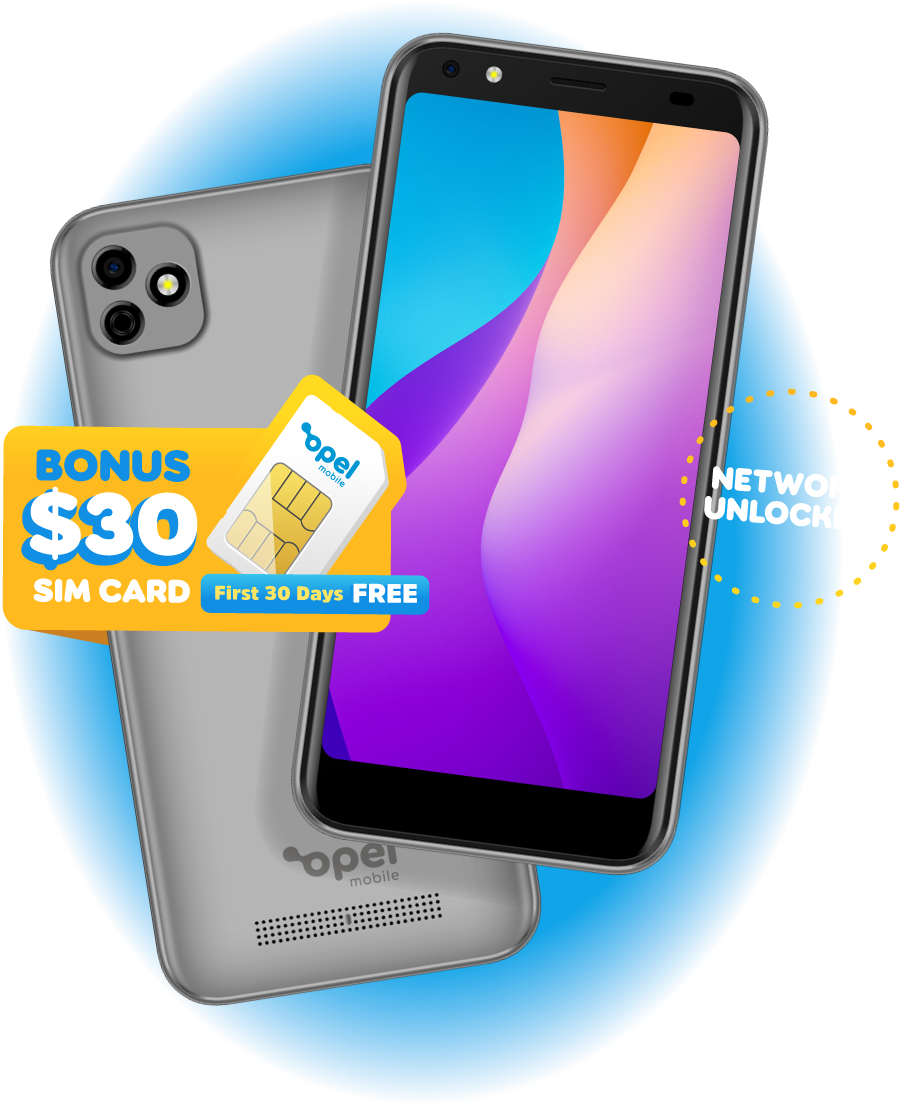 Trusted by Australia's Top Retailers
The Smart55Q by Opel Mobile is a Google Android™ smartphone that is both affordable and powerful. It is specifically designed for those wanting perfection at an affordable price, making it a unique product.
If you're looking to purchase great value smartphones online,  then the Smart55Q by Opel Mobile is the one for you.
For just $149, you can get a brand new Android phone with all of Google's apps that are fully functional, easy to use, and looks great. The Android 12 Go Edition™ ensures that the phone runs smoothly without putting too much pressure on the battery.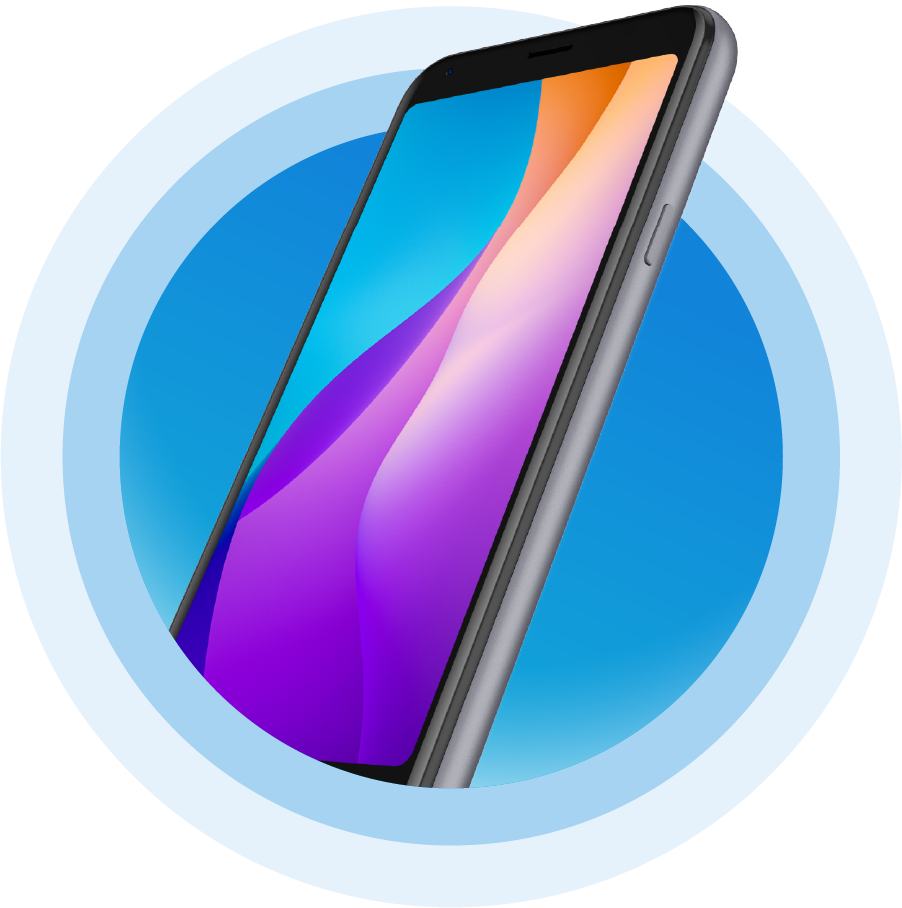 Meet the Opel Mobile Smart55Q Phone
A truly stunning design will let your friends and family know you mean style. Ergonomically engineered form with matt finish in Space Grey.
View all your videos and images on the colour rich 5.5" IPS vivid display. Gaming,  email or surfing the internet, the display will not disappoint.
Packing 2GB of RAM and 16GB of ROM along with a 1.4Ghz Quad Core processor will keep you ploughing through your tasks.
With a 5 megapixel camera on both the main and the selfie lens, never miss the special moments.
AndroidTM 12

(Go Edition)
Android 12 (Go Edition) delivers even more personal, safe and effortless experiences on your device. Featuring a totally reimagined UI just for you and new privacy features that are designed for your safety and put you in control.

Unlock your world just by looking at your phone, our facial unlock will keep you on the move whilst protecting your privacy.
A stylish shock proof jelly case and screen protector is included which ensures your phone is protected from daily wear and tear.
Feature Loaded Smartphone
The Smart55Q is loaded with excellent features. It's a network-unlocked phone with 4G Dual Sim, and comes equipped with high-quality 5MP Front and Rear cameras, which allows you to capture all your precious moments and memories.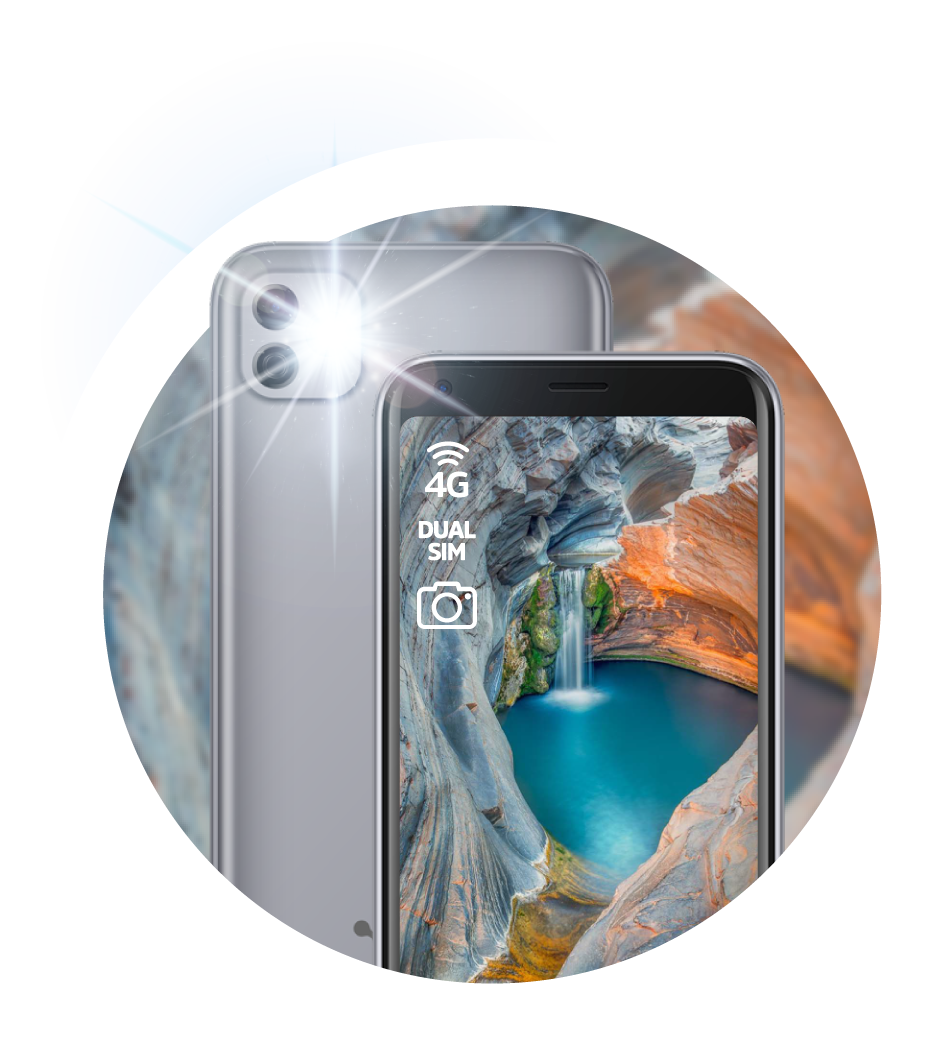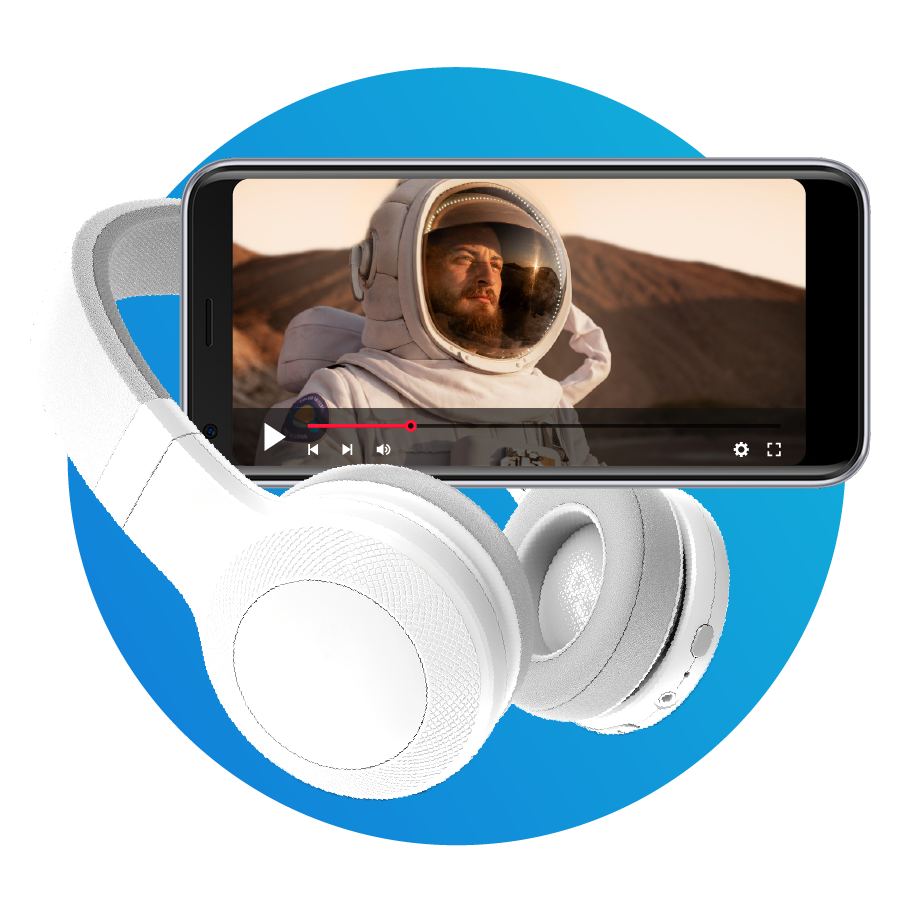 The 5.5-inch screen is even big enough to watch movies. With Bluetooth, facial unlock, and a 3.5mm headphone jack, you have everything you need for easy, safe, everyday use.
The 2500mAh Battery offers long-lasting performance too, while the expandable 64GB memory ensures you won't   run out of storage space.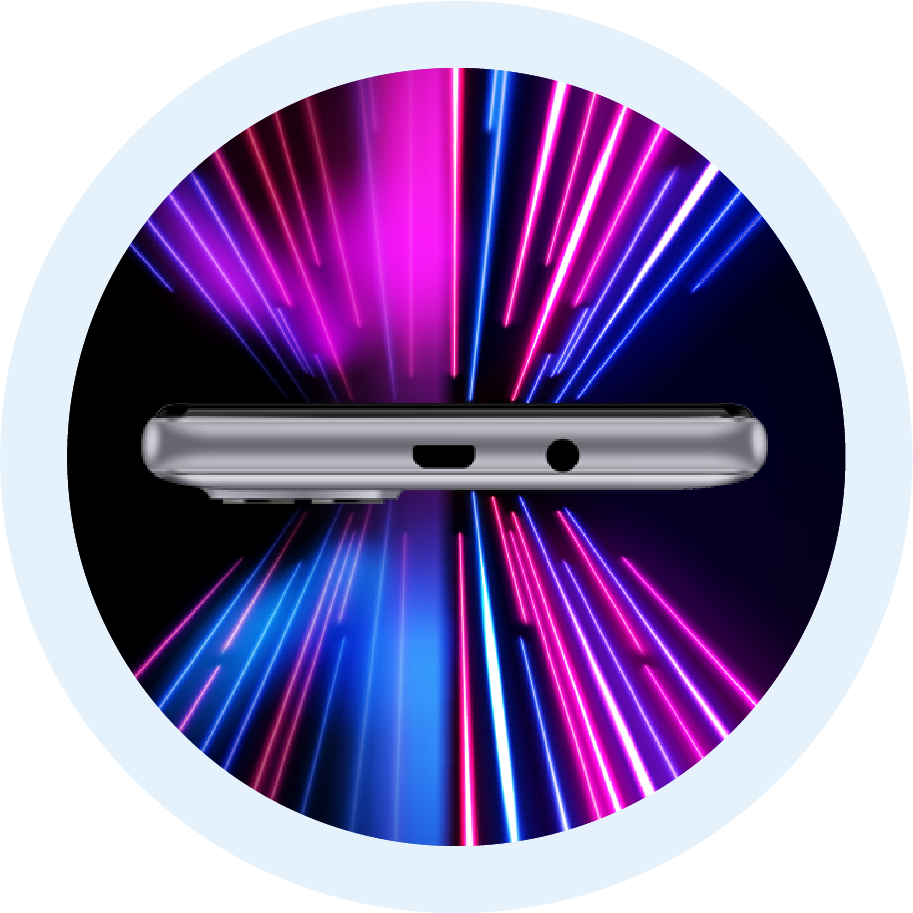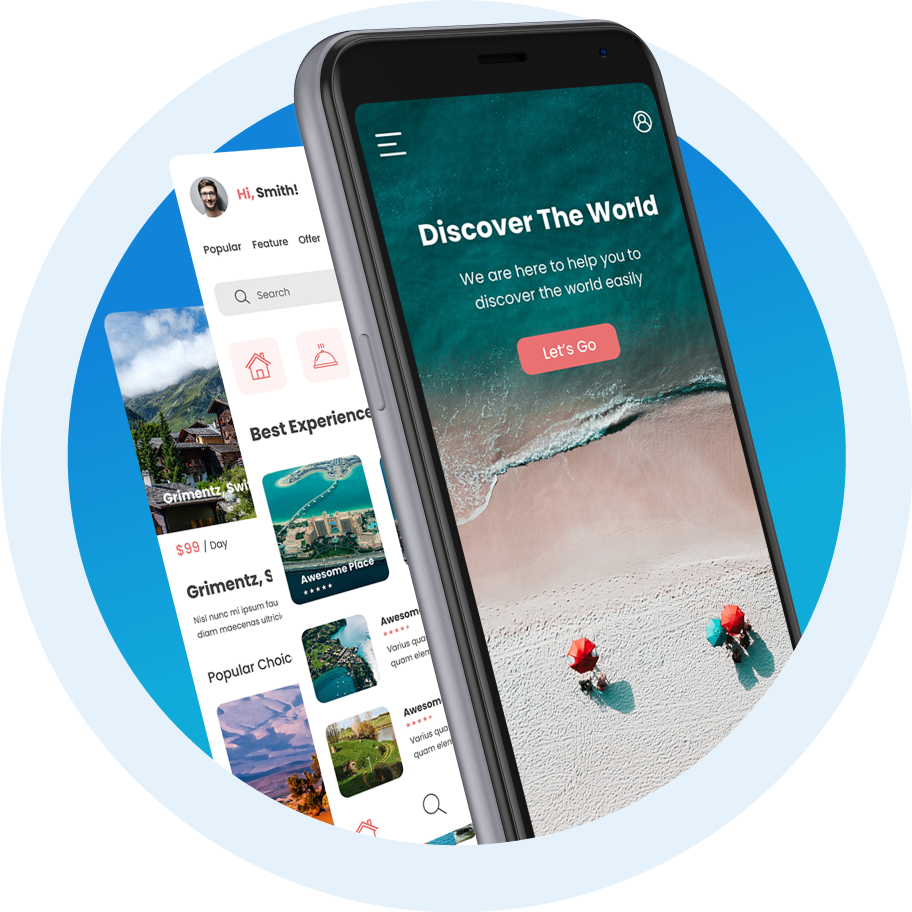 As mentioned, it's also preloaded with Android™ 12 Go Edition, which ensures you have smoother and faster app performances without draining the battery.
Real Reviews from Satisfied Smart55Q Phone Users
We love hearing stories about how Smart55Q Phone has helped real people a little easier. Here are some of our favourites.
The Good Guys
The touch screen makes handling much easier. A comprehensive manual also helps. Overall this is a well designed product suitable for seniors.
JB Hi-Fi
Very pleased with the phone for aged people with flip opening and closing calls. Large key pad helps. Basic phone with the add ons that are necessary. No frills and well priced.
JB Hi-Fi
Great for oldies they can call by choosing photos excellent
4G Bands
B1/3/5/7/8/28A/40
OS
Android™ 12 (Go Edition)
Expandable Memory
Up to 64GB
Shockproof Phone Case Included
Yes
Soft Screen Protector Included
Yes
Upgrade to the Smart55Q Today
Finding great value phones in Australia can be challenging. Some models may seem like a bargain but may not provide much value for money.
When searching for great value smartphones online, choices are often restricted to older or second-hand models. At Opel Mobile, we believe that consumers deserve more. Our Smart55Q phone is safe, secure, durable, and comes with a case and screen protector for extra protection. Overall, it's the perfect blend of value and performance when it comes to buying affordable smartphones online in Australia.
It's available to purchase at major retailers such as Big W and Australia Post.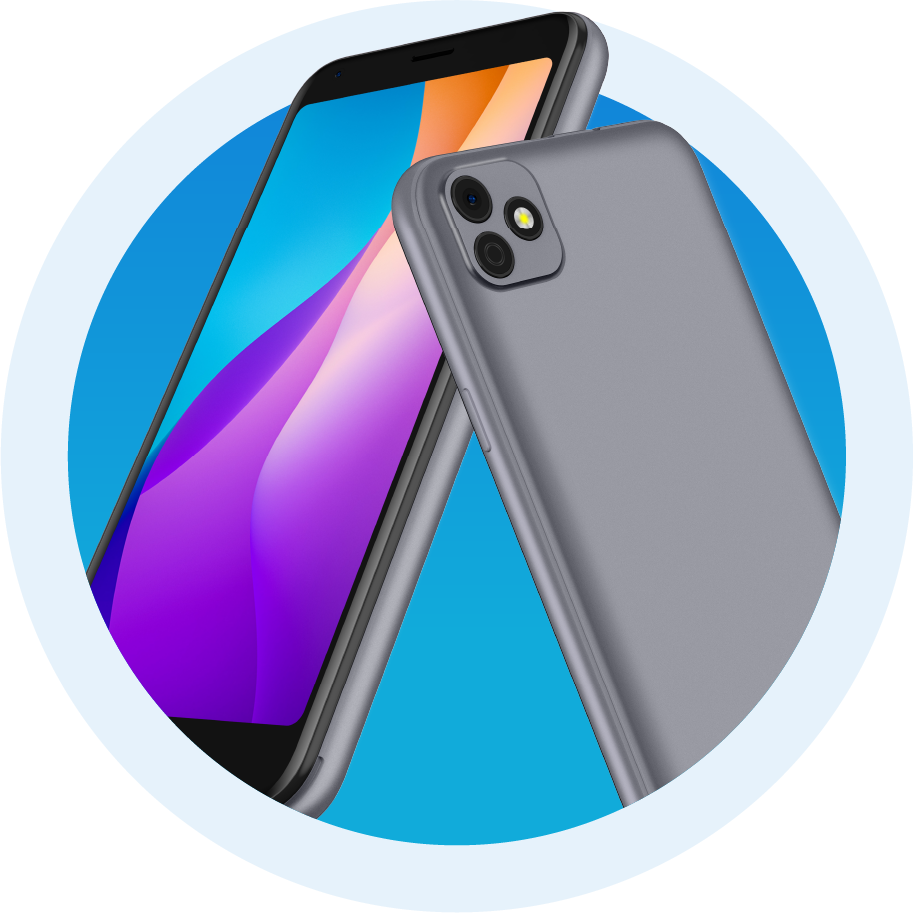 Frequently Asked Questions
This really depends on the strength of the network signal and your usage patterns. Poor network reception and heavier usage pattern can drain battery much faster. Generally it can last up to 1-2 days on standby mode with light usage with good reception, however, we recommend to charge the device daily.
Yes, as it uses a removable battery, you can purchase a spare one on https://www.opelmobile.com.au/shop/
Yes, you can enable start up and lock screen password in Settings app:
1) Select Security
3) Select Screen Lock
4) Select PIN or Password
Yes, you can access Blocked Numbers through Settings menu inside Phone Dialler app
Use the Volume buttons to adjust ringing volume and switch ringer mode
You can change the ringtone:
1) Go to Settings app
2) Select Sound
3) Select Phone Ringtone
Yes, you can enable TalkBack through Accessibility menu inside Settings app
It is designed to work in Australia and New Zealand primarily, and we cannot guarantee it will work overseas
The device comes with a 12 month local warranty:
1) We will provide an identical replacement if we are unable to repair it under warranty
2) If it is not replaceable, we will provide refund based on your original purchase price (a copy of proof of purchase must be provided)
3) We will cover all postage costs if it is under warranty
4) We do not cover accidental damage nor water damage
This means you have input the incorrect SIM PIN code for 3 times or more, please contact your network provider to obtain the PUK code of your SIM card (not from Opel Mobile)
Please refer to the below checklist and follow them properly:
1) Must use the correct SIM card size
2) The SIM card is inserted correctly (refer to the Quick Setup Guide in User Manual)
3) The SIM card may be damaged or dirty, please obtain a replacement SIM from your network provider
Please refer to the below checklist and follow them properly:
1) The SIM card is inserted correctly (refer to the Quick Setup Guide in User Manual)
2) The SIM card has been activated and has sufficient credit to make calls
3) The phone number you want to call is being input correctly, e.g. with correct area code or country code
4) Make calls at the locations with good mobile network reception
5) They are connected to mobile network and flight Mode is not turned on
Please refer to the below checklist and follow them properly:
1) Try to increase the in-call sound volume
2) Ensure the microphone is not being covered
3) Adjust the position of the earpiece to your ear properly
4) Make calls at the locations with good mobile network reception
When you perform a factory reset, all the data in the device will be deleted, and there is no way to recover them
1) Go to Settings app
2) Select System
3) Select Advanced then Reset Options
4) Select Erase All Data
We Don't Just Sell Mobile Phones
Our solutions are of excellent quality due to being Australian designed. From flip phones to smartphones and big button phones we have now added the SafetyPendant to the Opel Mobile family.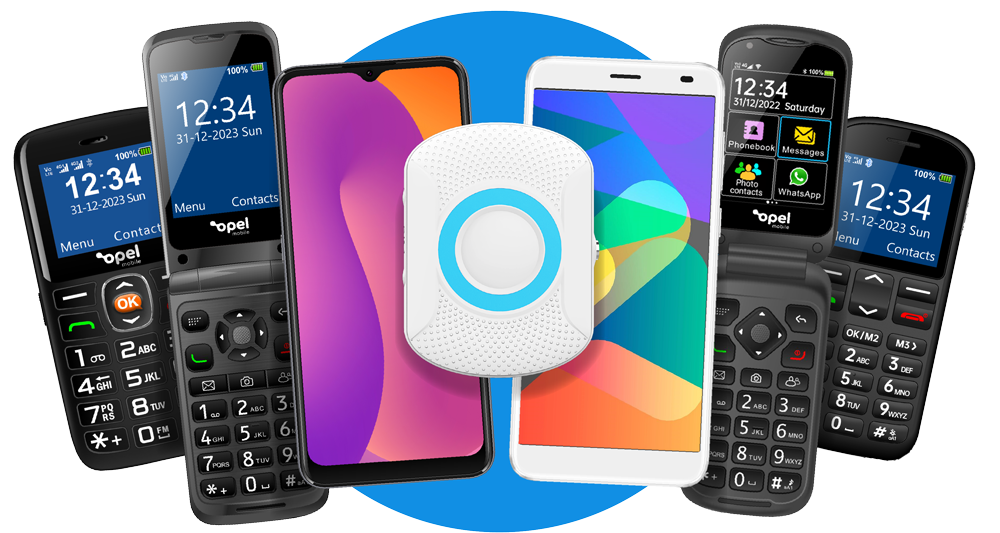 Step up to the 55Q, Our  5.5″ Smartphone that packs a punch on features and value at just $149 – Get yours today!
Buy direct from our website and get a BONUS Opel Mobile Prepaid SIM card with the first 30 days of the plan FREE on activation